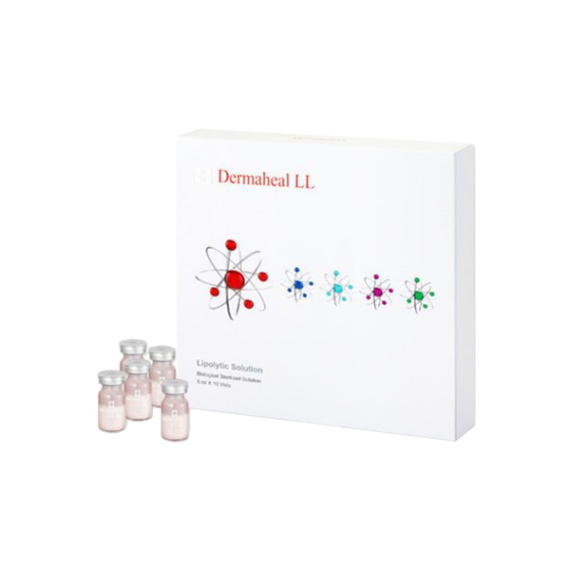 Dermaheal LL
Dermaheal is a series of injection solutions from the South Korean company Caregen. The series includes products for skin regeneration and rejuvenation, reduction of dark circles and eye bags, lipolysis, skin brightening, diminishing skin pigmentation, as well as for hair loss treatment. Dermaheal products contain various biomimetic peptides with a wide spectrum of action, which trigger skin regeneration processes and enhance its protective properties.
Description
Dermaheal LL is a lipolytic solution with a skin lifting effect. The product contains 2 biomimetic peptides: decapeptide-4 exerts a lipolytic effect and stimulates the production of collagen; sh-oligopeptide-2 promotes proliferation of keratinocytes (skin cells). Lecithin acts as a fat emulsifier; it degrades fat cell membranes. L-carnitine is responsible for the transport of fatty acids to mitochondria for their further conversion into energy thus enhancing the effect of lecithin. Thus, Dermaheal LL has not only a fat-burning effect but it also improves the skin complexion by increasing its elasticity.
Strengths of Dermaheal LL:
anti-cellulite effect
ideal for correction of the face/body contours and shapes
skin lifting effect due to the content of biomimetic peptides in the composition
the product is ideal for local reduction of body fat deposits
Dermaheal LL is used for lipolysis and body/face contour correction.
Scope of Dermaheal LL:
face (double chin, chubby cheeks, face contour correction)
waist area (belly, love handle, back)
legs (hips, thighs, and knees)
arms (armpits and inner upper arm areas)
treatment of cellulite
Product composition: Decapeptide-4 (CG-IDP2), sh-Oligopeptide-2 (CG-IGF1), Hydrogenated lecithin (phosphatidylcholine), L-carnitine
Dermaheal LL
10 vials × 5 ml per pack
Manufacturer: Caregen Co., Ltd., South Korea
Additional information
| | |
| --- | --- |
| Origin | South Korea |
| Quantity-per-case | 10vials 5ml |
| Ingredients | |