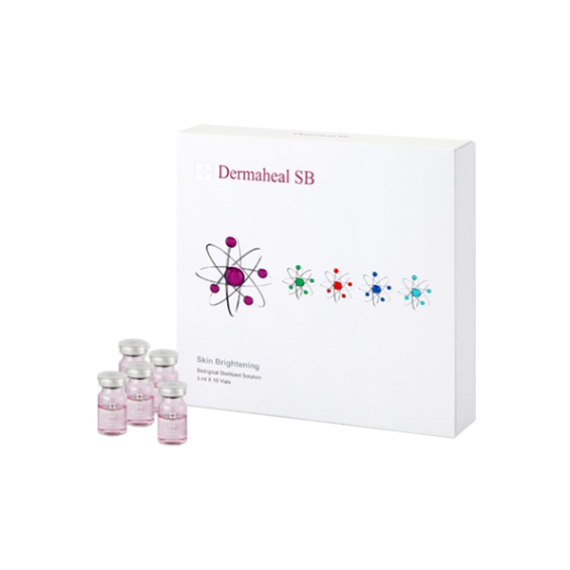 Dermaheal SB
Dermaheal is a series of injection solutions from the South Korean company Caregen. The series includes products for skin regeneration and rejuvenation, reduction of dark circles and eye bags, lipolysis, skin brightening, diminishing skin pigmentation, as well as for hair loss treatment. Dermaheal products contain various biomimetic peptides with a wide spectrum of action, which trigger skin regeneration processes and enhance its protective properties.
Description
Dermaheal SB is a skin brightening solution for treating undesired skin pigmentation and evening the skin tone. The product contains 3 biomimetic peptides aimed at suppressing the synthesis of melanin thus reducing hyperpigmentation and preventing the formation of age spots. Ethyl ascorbic acid presents a form of vitamin C and has antioxidant and skin-brightening effects. Arbutin prevents the formation of melanin by inhibiting the enzyme tyrosinase. Licorice extract exerts a skin-whitening and antioxidative effects.
Strengths of Dermaheal SB:
effective in the treatment of all types of hyperpigmentation: age spots, UV-induced pigmentation, as well as hereditary, post-inflammatory and hormonal hyperpigmentation
injections of Dermaheal SB provide even and bright skin tone
the product both reduces and prevents hyperpigmentation
Dermaheal SB is aimed at treating undesired skin pigmentation. The product is used for injections in the face, neck, décolleté, and back of the hand.
Scope of Dermaheal SB:
age spots
solar-induced pigmentation, freckles
hyperpigmentation disorders (melasma, ephelides)
uneven skin tone
Product composition: Pentapeptide-13 (CG-ASP), Oligopeptide-34 (CG-TGP2), Oligopeptide-50 (CG-Glamerin), 3-O-Ethyl ascorbic acid, Arbutin, Glycyrrhiza glabra (licorice) root extract
Dermaheal SB
10 vials × 5 ml per pack
Manufacturer: Caregen Co., Ltd., South Korea
Additional information