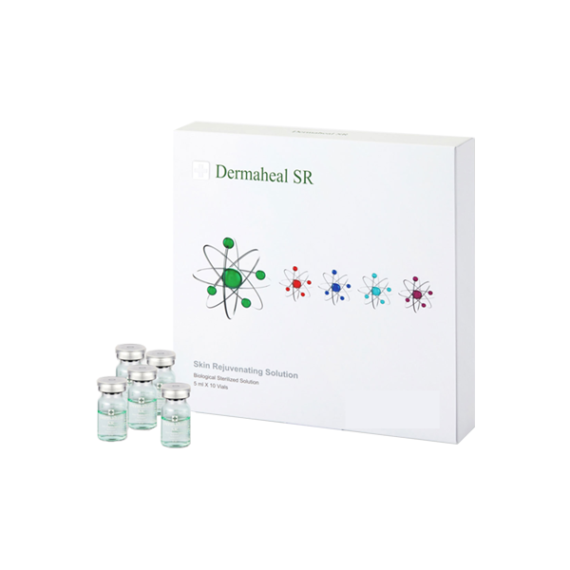 Dermaheal SR
Dermaheal is a series of injection solutions from the South Korean company Caregen. The series includes products for skin regeneration and rejuvenation, reduction of dark circles and eye bags, lipolysis, skin brightening, diminishing skin pigmentation, as well as for hair loss treatment. Dermaheal products contain various biomimetic peptides with a wide spectrum of action, which trigger skin regeneration processes and enhance its protective properties.
Description
Dermaheal SR is a mesotherapy product designed for skin rejuvenation. The product contains 5 biomimetic peptides, which stimulate angiogenesis, proliferation of keratinocytes and fibroblasts, as well as production of hyaluronic acid (HA), elastin and collagen. Dermaheal SR also contains various natural components such as minerals, coenzymes, vitamins, amino and nucleic acids. Vitamins exert an anti-oxidative effect; minerals and coenzymes protect the skin from the harmful environmental factors. The product is aimed at diminishing early signs of aging as well as improving the skin tone and complexion.
Strengths of Dermaheal SR:
quick effect of skin rejuvenation is achieved due to stimulation of natural production of HA, elastin, and collagen in the skin
rich composition: 5 biomimetic peptides, various vitamins, amino acids, minerals, and other natural ingredients
ideal solution for very dry, dull and dehydrated skin
ideal for treating early signs of aging
Dermaheal SR is used for biorevitalization.
Scope of Dermaheal SR:
skin tone improvement (brightening of dull skin)
correction of first signs of aging
deep hydration of very dry skin
pore tightening
treatment of acne scars and blemishes
correction of age-related changes in the periorbital area
Product composition: Decapeptide-4 (CG-IDP2), Acetyl decapeptide-3 (rejuline), Oligopeptide-24 (CG-EDP3), Copper tripeptide-1, Tripeptide-6 (CG-CTP), 13 Vitamins, 24 Amino acids 5 Minerals, 4 Coenzymes, 4 Nucleic acids, 2 Reducing agents (glutathione, ascorbic acid)
Dermaheal SR
10 vials × 5 ml per pack
Manufacturer: Caregen Co., Ltd., South Korea
Additional information