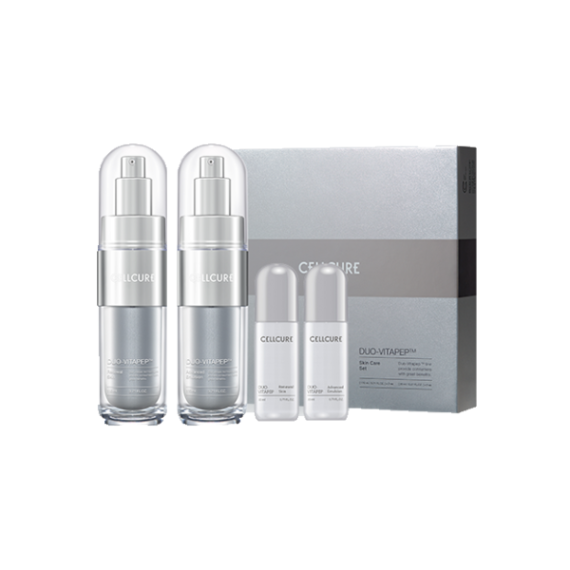 Duo-Vitapep Skin Care Set (2 items)
Composition
Duo-Vitapep Renewal Skin 110ml
Duo-Vitapep Advanced Emulsion 110ml
Description
Celltrion's unique bio technologies has created skincare that is based on improving the moisture of the skin as well as encouraging the skin further by encouraging the development of liposome.
The end product not only boosts the moisture of the skin, but also the skins ability to retain moisture, give a brighter complexion, as well as greatly improve the elasticity of the skin, helping you to fight again the natural signs of aging.
composition:
Celltrion Duo-Vitapep Renewal Skin 110ml
– helps to vitalize and replenish the skin for brighter complexion
Celltrion Duo-Vitapep Advanced Emulsion 110ml
– skin-firming emulsion offers nourishment to fatigued skin for a more supple and sleek complexion
How to Use
Apply toner to entire face with cotton swab, patting thoroughly.
Gently apply an appropriate amount of emulsion onto the skin in the same pattern.
Ingredients
CELLTRION DUO-VITAPEP RENEWAL SKIN
Water, Glycerin, Propanodiol, PEG/PPGPolybutyene Glycol-8/5/3 Glycerin, Butylene Glycol, Dimetticone 1,2-Hexanedol, Sorbitol, Alcohol, Paeonia Suftruticosa Root Extract, Hydrolyzed Yeast Extract, Asparagus Officinalis Stem Extract, Undaria Pinnatifida Extract, Hydrogenated Locithin, Sodium Hyakuronate, Panthend, Poyglycerin-3, PEG -60 Hydrogonated Castor Cil, Cyclopentasilaxane, Bis-PEG-18 Methy Ether Dimetryl Silane, Dipropylone Glycol, Niacinamide, Diethoxyethy Succirate, Allantoin, Hydroxyethyl Acryate/Sodium Acryloydimethy Taurate Copolymer, Xanthan Gum. Tooophery Acetate, Polysilicone-11, Glycaryl Aarylata/Acrylc Acid Copolymer, Dipatassium Glycyrhizate, Disodum EDTA, Glycery Citrate/Lactate Linolaate/Oleate, Sodum Citrate, Trormethamine, Capylo/Caprc Triglycerkde, Celukse Gum, Polyglutamic Acid, Octyldodecaridi, Gluconolactone, Citric Acid, Calcium Gluconate, Palmitoy Tripeptide-5 Amidopropyl Ascortyl Phosphate HC, Brassica Campestris (Papesoed Stercis) Cholesterol, Tooopheral, PEG-5 Rapeseed Stercl, Ceteth-3, Ceteth-5, Sodium Stearoy Glutamate, Cety Hyaroxyetrylcellulcse, Pentaerythnityl Tetra-dit-butyl Hydroxyhydrocinnamate, Polyglucuronic Acid, Lecithin, Frogronce, Hydroxyacetophenone
CELLTRION DUO-VITAPEP ADVANCED EMULSION
Water, Glycerin, Propanediol, Hydrogenated Paly C6-14 Olefin), Pentaerythrity Tatraethyhexanoate, Limnanthes Alba (Meadowfoam) Seed Ol, Oyciopentasiloxane, Polyglycery-3 Methyglucose Distearate, Dimethicone, Hydrogenatod Olive Oil, Lauryl Estors, 1,2Hexanediol, Cycohexasloxene, Butylene Glyco, Pasonia Suffrutkusa Root Extract, LrKiaria Prinatifida Extract, Asparagus Officinals Steni Extract, Hydrogenated Lecithin. Niacinernide, Acetyl Glucosamine, Panthenol, Poymethy silsesquicxane, PhytosteryVBahanylOctyidadacyt Lauroy Glutamate, Glyceryl Steerate, Cetearyl Alcohol, PEG-100 Stearate, Hydroxyetyl Aczyate/Socium Acryoyldmethyl Taurate Copolymer, Dipropylene Glycol, Alantoin, Tromethamine, Dipalmitoyl Hydroxyproline, Carbomer, Caprylic/Capric Triglycorice, Dipotassium Glycynhizata, Xanthan Gum, Disodium EDTA, Sodium Otrate, Octyldodecanol, Gluconolactone, Citric Acid Calcium Gluconate, Pamtoy Inpepticde-5 Amidopropyl Ascorbyl Phosphate HOI, Brassica Campestris (Rapeseed) Sterols, Cholesterol, PEG-5 Hapeseed Storol, Cetetn-3, Ceteth 5, Sodium Stoaroyl Glutamata, Pentaerythrtyt Tetra di-t-butyl Hydroxyhydrocinnamate, Fragrance, Hydroxyacetophenone
Additional information
| | |
| --- | --- |
| Origin | South Korea |
| Quantity | 110ml |