Description
P198 ExoHealer Filcore SB
     (Lyophilized Exosome)
2ml x 10vials / box 
P198 ExoHealer is a skin booster completed with exosome cell biotechnology that has never been experienced before, and is a brand dedicated to hospitals that contains the essence of pure exosome with enhanced function.
Vendor: ExoHealer
Product Type: Skin, Scalp
FEATURES 
– For composite skin problems including skin sensitization and micro-aging
– Strengthened exosome function with 6 types of skin growth factors
– The core issure is how to deliver which active ingredients deep into the skin
– Optimal synergy for activation of 49.2 billion exosomes
– Powerful regenerative / anti-inflammatory effects of 49.2 billion exosome particles.
How to use 
1. After pulling the transparent cap at the top of the container to the end in the direction the arrow by exerting force, remove all aluminum around its circumference.
(Prior to opening, make sure shake the P198 Filcore Activating Solution before use)
2. Remove the rubber cap and add 5ml of P198 Filcore Activating Solution to P198 Filcore
3. After dissolving sufficiently by lightly shaking the mixture 3~4 times, spread on the desired skin area and allow it to be absorbed.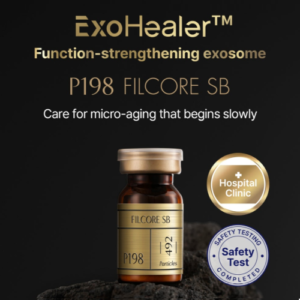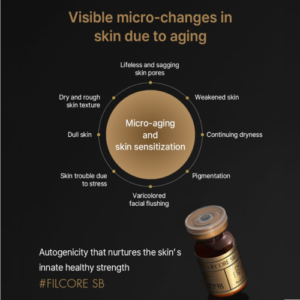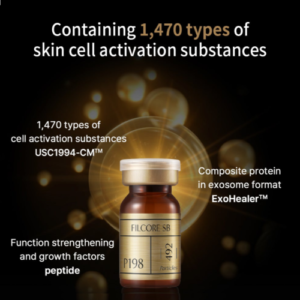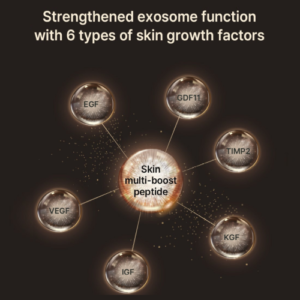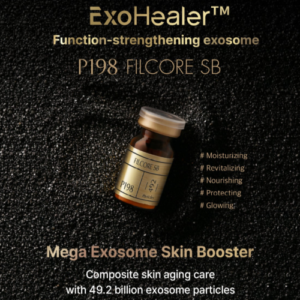 Additional information
| | |
| --- | --- |
| Weight | 0.7 kg |
| Dimensions | 20 × 15 × 10 cm |