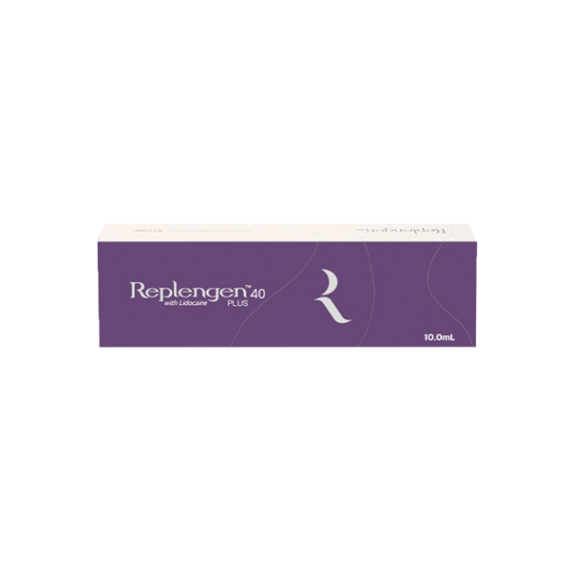 Replengen 40 Plus Lidocaine
$120.00
Replengen presents a series of hyaluronic-acid-based dermal fillers from the South Korean biotechnology company Reanzen Co., Ltd. "Replengen" is a compound word of replenish + tissue regeneration. Highest-quality HA (manufactured by Shiseido company, Ltd., Japan) is used in Replengen fillers.
Description
Replengen is a cross-linked hyaluronic acid (HA) filler for wrinkle filling, face contouring, body shaping, and volumization. Special technologies are used in the production of Replengen fillers. Due to these technologies, the resulting filler has finely-divided gel structure and is characterized by slow rates of HA decomposition in the human body. Only high-quality and high-purity raw materials (Shiseido Company, Ltd., Japan) are used for the manufacture of Replengen series products.
Strengths of Replengen 40 Plus Lidocaine:
no skin swelling and inflammation after the procedure
the presence of lidocaine in the composition makes the procedure painless
finely-divided gel structure ensures smooth and easy injection
improved effect duration due to the special HA cross-linking technology
clinically proven efficacy
high safety due to the special technology of purification from residual endotoxins, heavy metals, and other impurities
Replengen 40 Plus Lidocaine is perfect for filling deep wrinkles and folds, as well as for face and body contouring. The filler is used for deep subcutaneous injection.
Scope of Replengen 40 Plus Lidocaine:
correction of deep facial wrinkles and folds (forehead lines, frown wrinkles, lip lines, marionette lines, nasolabial fold)
facial volumization (cheek, chin, and cheekbone areas)
neck and décolleté rejuvenation
body contouring and augmentation (hips and buttocks)
The aesthetic effect lasts from 12 to 18 months.
Product composition: HA 24 mg/ml, Lidocaine 0.3%
Replengen 40 Plus Lidocaine
1 syringe × 10.0 ml per pack
Manufacturer: Reanzen Co., Ltd., South Korea
The product has contraindications. We are not responsible for any negative effects that you may encounter after administering products by yourself. Consulting a doctor or medical professional is recommended prior to any procedure.
Additional information
| | |
| --- | --- |
| Weight | 0.25 kg |
| Origin | South Korea |
| Quantity-per-case | 1 syringe × 10.0 ml per pack |
| Ingredients | |