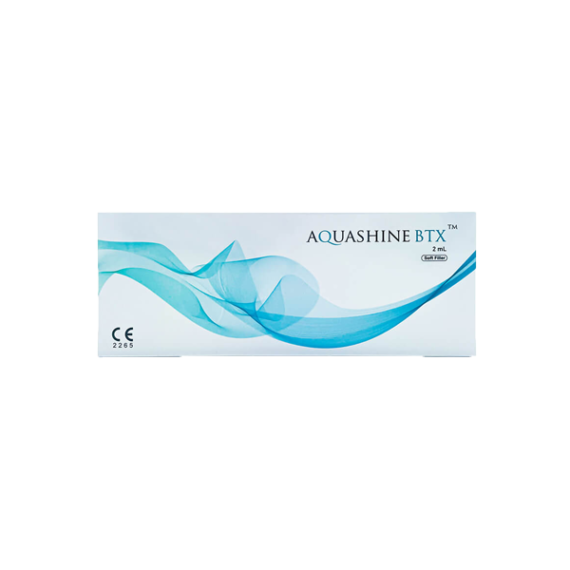 Revofil Aquashine BTX
$70.00
Revofil Aquashine represents series of injectable dermal fillers from South Korean company Caregen. The innovative composition of the products includes hyaluronic acid, oligopeptides as well as complex of vitamins and minerals that provide deep skin moisturizing and regeneration, potent lifting effect, smoothing of skin wrinkles, brightening of pigment spots, pore retraction, and elimination of black eye-rims and baggy lower eyelids. The series contains three products: Aquashine soft, Aquashine soft BR, and Aquashine BTX suitable for biorevitalization of patients with different skin types and evident age-related changes.
Description
Revofil Aquashine BTX is an injectable dermal filler with multidirectional action for preventative care and control of skin aging signs. The composition of Revofil Aquashine BTX is the most intense among the products of Revofil Aquashine series. The combination of hyaluronic acid, wide spectrum of oligopeptides, minerals and vitamins provides potent regenerative and anti-aging effect of injections. Introduction of the Revofil Aquashine BTX stimulates activity of keratinocytes, enhances synthesis of collagen, elastin and keratin and increases skin elasticity. The most important innovation of the product is the presence of oligopeptide-62 that possess myorelaxation similar to botulinotherapy but without any undesirable side effects. The complex action of Revofil Aquashine BTX also involves brightening of pigment spots, removal of scars and postacne cicatrix, general increase in skin tension as well as fixation of blood vessels walls and improvement of microcirculation. The Revofil Aquashine BTX may be applied for different skin types and is the most optimal for the treatment of patients with evident age-related changes.
Strengths of Revofil Aquashine BTX:
may be used for the recovery of thin, sensitive and quite de-watered skin
combination of oligopeptides and hyaluronic acid promotes botulino toxin-like effect without any side effects
may be injected as an individual cosmetological product as well as in combination with other biorevitalizants, laser approaches and facial contouring
effect is evident even after the first procedure
Revofil Aquashine BTX is used for biorevitalization.
Scope of Revofil Aquashine BTX:
face muscle relaxation and prevention of mimic wrinkles formation
lifting and deep moisturizing of skin derma, even in case of evident age-related changes
retraction of pore size and prevention of acne
maintenance of radiance and smooth skin tone as well as brightening of pigment spots
recovery of skin after traumas and surgeries
The average aesthetic effect lasts 12 months.
Product composition: PBS, Sodium Hyaluronate 15 mg/ml, Decapeptide-29, Oligopeptide-62, Oligopeptide-72, Oligopeptide-34, Acetyl Decapeptide-3, Oligopeptide-51, Oligopeptide-24
Revofil Aquashine BTX
1 pre-filled syringe × 2 ml
Manufacturer: Caregen Co., Ltd., South Korea
Additional information