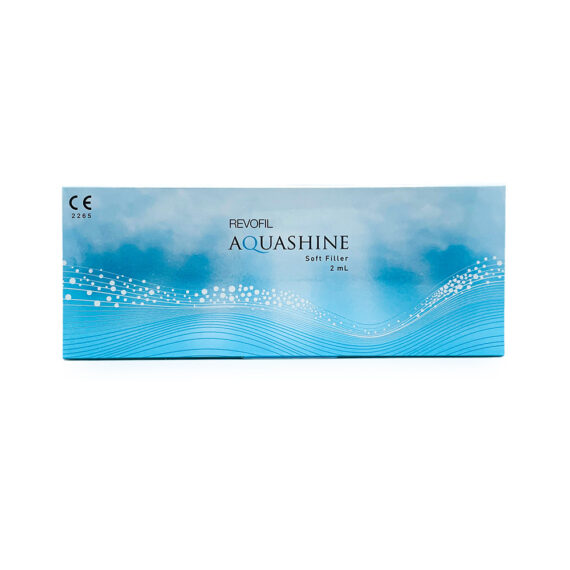 Revofil Aquashine
$70.00
Revofil Aquashine represents series of injectable dermal fillers from South Korean company Caregen. The innovative composition of the products includes hyaluronic acid, oligopeptides as well as complex of vitamins and minerals that provide deep skin moisturizing and regeneration, potent lifting effect, smoothing of skin wrinkles, brightening of pigment spots, pore retraction, and elimination of black eye-rims and baggy lower eyelids. The series contains three products: Aquashine soft, Aquashine soft BR, and Aquashine BTX suitable for biorevitalization of patients with different skin types and evident age-related changes.
Description
Revofil Aquashine is an injectable dermal filler for skin recovery and lifting. The innovative composition of Revofil Aquashine includes hyaluronic acid together with a comprehensive complex of vitamins and oligopeptides. The presence of hyaluronic acid provides deep skin moisturizing. The vitamins A, B, C, E, and K exert a protective anti-oxidant effect. Peptide constituents prevent photo-aging and hyperpigmentation of the skin, inhibit the formation of wrinkles and folds as well as restore skin elasticity and radiance through the intensive growth of fibroblasts and collagen synthesis. In addition, peptides of Revofil Aquashine decrease sebum production and promote pores contraction. Revofil Aquashine is hypoallergic, shows high biocompatibility, and might be used as a solution to a wide spectrum of cosmetological issues.
Strengths of Revofil Aquashine:
enhancement of skin tissue tension and elasticity by complex action of hyaluronic acid and oligopeptides
constituents of the Revofil Aquashine are more stable than corresponding natural compounds and exert a long-lasting effect
is effective not only for face skin amelioration but for treatment of neckline, hands, thighs, and belly
may be used for correction of scars, post-acne as well as age-related pigment spots
Revofil Aquashine is used for biorevitalization.
Scope of Revofil Aquashine:
enhancement of skin elasticity and deep moisturizing
elimination of wrinkles, folds, and scars
restoration of face tone radiance
regulation of sebum production
The aesthetic effect lasts from 8 to 10 months.
Product composition: PBS, Sodium Hyaluronate 15 mg/ml, Oligopeptide-72, Oligopeptide-34, Acetyl Decapeptide-3, Oligopeptide-24
Revofil Aquashine
1 pre-filled syringe × 2 ml per pack
Needle size: 32G½
Manufacturer: Caregen Co., Ltd., South Korea
Additional information