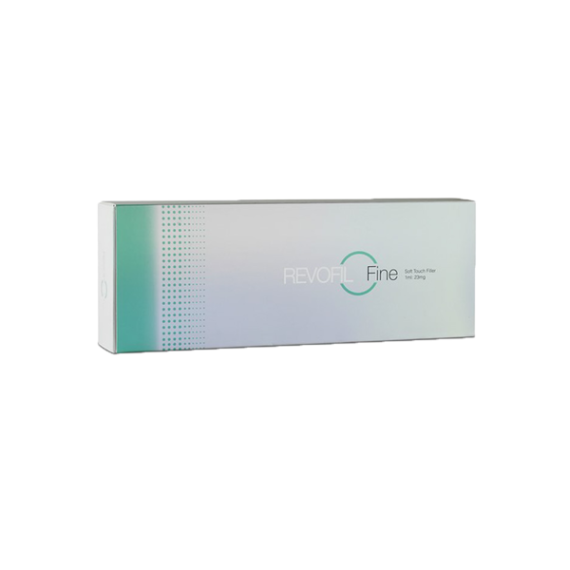 Revofil Fine
$60.00
Revofil is a brand of injectable fillers for complex skin rejuvenation by Caregen Co., Ltd. The series consists of three products: Revofil Fine, Revofil Plus and Revofil Ultra based on highly molecular hyaluronic acid and biomimetic peptides. Such constituents act synergistically and effectively moisturize the skin, leading to manifold increase in skin tension and elasticity. Products of the series have different extent of exposure that allows to choose the most optimal filler for each individual cosmetological issue. The products of Revofil series possess the optimal viscosity and high biocompatibility that makes the fillers safe for application.
Description
Revofil Fine is an injectable filler with mild effect for skin rejuvenation. The main active agent of the product is a polymer of hyaluronic acid, those introduction results in the increase in skin elasticity and moisture content. In addition, the innovative composition of the filler contains oligopeptides-72 and -50 that provide long-lasting effect through inhibition of hyaluronidase and retaining of intact natural hyaluronic acid. Revofil Fine protects skin from the free radical action and neutralizes the defects caused by UV-radiation as well as oxidizing agent action. The product is safe, does not cause allergic reactions and is suitable for treatment of different age-grade patients.
Strengths of Revofil Fine:
the injections are carried out to superficial dermis and have a gentle rejuvenating effect
due to inhibition of hyaluronidase, the product exhibits long-lasting effect
has a wide spectrum of action and might be used both for the correction of fine lines and lips augmentation
suitable for preventative care of early symptoms of skin-aging
Revofil Fine is applied for:
superficial and mimic wrinkle correction
lip shape correction and lifting
hand skin rejuvenation
lips augmentation
tear troughs correction
liquidation of scars
The effect of the procedure lasts from 10 to 12 months.
Product composition: PBS, Sodium Hyaluronate Crosspolymer-2 23 mg/ml, Oligopeptide-72, Oligopeptide-50
Revofil Fine
1 syringe × 1 ml
2 needles 30G × 13 mm
Manufacturer: Caregen Co., Ltd., South Korea
Additional information