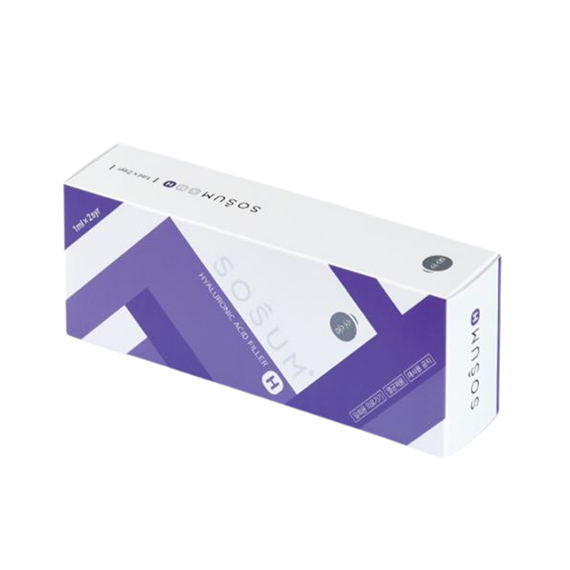 Sosum-H
$45.00
Sosum presents a series of cross-linked hyaluronic-acid-based fillers from the South Korean company JSBIO Co., Ltd. Sosum fillers have outstanding HA cross-linking rate, zero BDDE level, as well as high viscosity and elasticity parameters, which ensure longer aesthetic effect duration.
Description
Sosum H is a stabilized hyaluronic acid- (HA)-based filler with high cross-linking rate. Special technology called "Low Temperature Stabilization Reaction (LTSR)" is used in the production of Sosum fillers; it ensures minimum distance between the HA molecules meaning high density and finely packed molecular structure. The resulting HA is more resistant to degradation compared to other HA fillers, which means longer aesthetic effect duration. Two-step purification is used for removal of residual BDDE, which minimizes the risk of allergic reactions and other side effects. High elasticity and low injection force of the HA gel ensure uniform distribution of the filler during injection thus reducing the risk of gel lumping, edema and bruises after the procedure. With Sosum fillers, the injection procedure is now painless and also comfortable for both the client and the specialist.
Strengths of Sosum:
no allergic reactions and other side effects due to the zero level of residual BDDE
non-animal-derived HA
proven safety (toxicity tests)
high rate of HA cross-linking and dense gel structure ensure uniform distribution of the gel in dermal layers and minimized risk of lumps
finely-divided gel structure makes the procedure painless
long-lasting esthetic effect due to the high viscosity of the gel
proven effectiveness (based on the survey on the 8th and 24th weeks after the injection procedure)
Sosum H is ideal for filling deep facial wrinkles and folds, as well as for face contouring and volumization. The filler is injected into the deep dermis and subcutaneous tissue.
Scope of Sosum H:
nasolabial folds
perioral wrinkles (marionette lines, smoker's lines, mouth frown)
forehead creases (worry lines, glabellar lines)
chin wrinkles (mental crease)
facial volumization (forehead, chin, and cheekbone areas)
lip contouring and augmentation
The aesthetic effect lasts from 8 to 12 months.
Product composition: HA, 20 mg/ml
Sosum H
2 syringes × 1.0 ml per pack
Manufacturer: JSBIO Co., Ltd., South Korea
Additional information
| | |
| --- | --- |
| Weight | 0.1 kg |
| Origin | South Korea |
| Quantity-per-case | 1.0ml * 2 |
| Ingredients | |