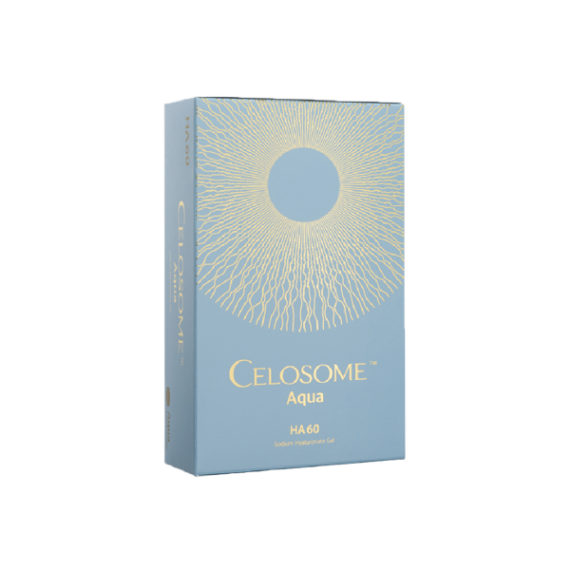 Celosome Aqua
Celosome presents a series of cross-linked hyaluronic-acid-based fillers from the South Korean company ExCoBio Co., Ltd. The company is the leader in the research and production of exosomes for treating various diseases in South Korea. In addition to medical products, ExCoBio Co., Ltd. manufactures various solutions for hair and skin that are used in cosmetology.
Description
Celosome presents a series of 100% cross-linked hyaluronic acid (HA) fillers. Celosome fillers have outstanding purity due to the special 8-phase filtering technology. The multi-staged purification technology guarantees complete removal of residual BDDE and metal ions. Low levels of impurities and endotoxins are achieved due to the process of deionization. The use of Celosome fillers ensures even distribution of the gel and long-lasting aesthetic results.
Strengths of Celosome:
immediate visible results
deep skin hydration due to the presence of mannitol in the composition
no residual BDDE as shown by liquid chromatography test
uniform gel distribution during the injection guarantees excellent and natural-looking aesthetic results
high purity of the product minimizes the risk of allergic reactions and other side effects
Celosome Aqua is used for biorevitalizaton. The filler is injected into the superficial dermis.
Scope of Celosome Aqua:
deep skin hydration
treatment of early signs of aging (superficial-to-mid wrinkles, saggy skin)
evening of the skin tone
brightening of dull skin
The aesthetic effect lasts from 1 to 3 months.
Product composition: HA, 24 mg/ml, Mannitol, 0.9%
Celosome Aqua
5 syringes × 2.5 ml per pack
Manufacturer: ExCoBio Co., Ltd., South Korea
Additional information
| | |
| --- | --- |
| Origin | South Korea |
| Quantity-per-case | 5 syringes × 2.5 ml per pack |
| Ingredients | |