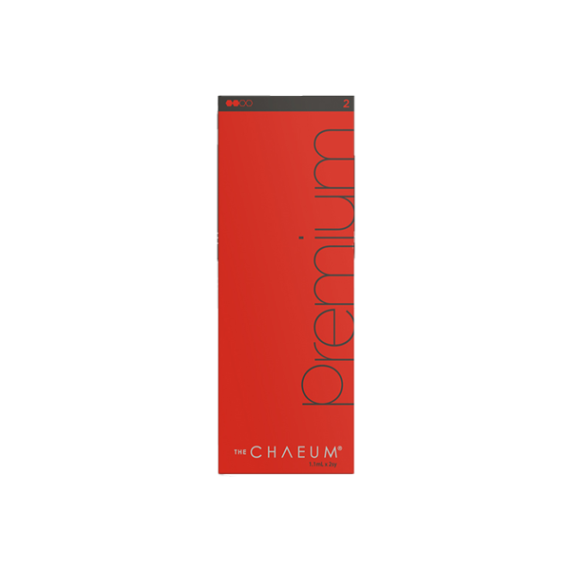 Chaeum Premium 2
$50.00
Chaeum Premium presents a series of hyaluronic acid-based dermal fillers from the South Korean company Hugel Pharma Co., Ltd. Chaeum is for correction of various wrinkles, lip augmentation, face rejuvenation and volumization. The products vary in the rate of HA cross-linking and the scope of use. Chaeum Premium fillers have outstanding quality and purity due to the special technology of prolonged dialysis of cross-linked HA.
Description
Chaeum Premium is a series of dermal fillers containing highly cross-linked hyaluronic acid (HA). Low temperatures and long duration of the cross-linking reaction used in the production of Chaeum Premium fillers yield even and dense gel structure. Exceptional purity of the product is achieved through prolonged dialysis of the HA after the cross-linking reaction. Minimized residual BDDE and protein levels guarantee the absence of allergic reactions.
Strengths of Chaeum Premium:
low endotoxin content (endotoxin <0.03 EU/ml) minimizes post-injection inflammation (redness, edema, painful and burning sensations)
high product safety due to minimized BDDE residue level
regular and dense gel structure ensures even distribution of the filler in the subcutaneous layers during injection
the series contains products varying in the HA cross-linking rate depending on the scope of use
Chaeum Premium 2 is used for correction of medium wrinkles and lip augmentation. The filler has medium HA cross-linking rate and is injected into the middle and superficial dermis.
Scope of Chaeum Premium 2:
glabellar and forehead lines
periorbital wrinkles (crow's feet)
perioral lines (marionette lines, smoker's lines, mouth frown)
lip contouring and augmentation
Product composition: HA 20 mg/ml, Lidocaine 0.3%
Chaeum Premium 2
2 syringes × 1.1 ml, 4 needles per pack
Needle size: 27G
Manufacturer: Hugel Pharma Co., Ltd., South Korea
Additional information
| | |
| --- | --- |
| Origin | South Korea |
| Quantity-per-case | 1.1ml * 2 |
| Ingredients | |