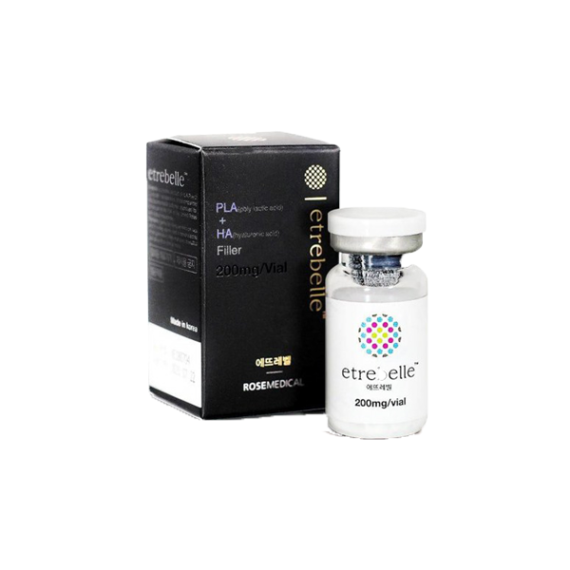 Etrebelle 200
$190.00
Etrebelle is a brand of injectable fillers for volumerization, wrinkle flattering and acne management by Yooyoung Pharmaceutical Co., Ltd. The line is represented by two products, including Etrebelle 50 and Etrebelle 200 distinguished by constituents concentration and corresponding cosmetological issues. The main feature of the series is optimal combination of two highly-molecular acids such as hyaluronic and poly-lactic in the product composition. Application of given components leads to effective wrinkle filling, justifying of deficient volumes, skin renewal as well as collagen synthesis by fibroblasts.
Description
Etrebelle 200 is an injectable filler for face volumerization and general skin elasticity improvement. Product composition consists of two acids: hyalyuronic (HA) and lopy-lactic (PLA), whose combined application allows to reach significant improvement of face skin condition. Hyaluronic acid is devoted to the skin moisturization and wrinkle flattering then polylactic acid confers the product with optimal viscosity and stimulates collagen synthesis in skin cells. The essential peculiarity of the solution is consistent action of its acid constituents that provides long-lasting effect of the procedures. It should be noted, that particles formed by poly-lactic acid in the solution have well-ordered compact structure that is suitable for face volumerization at most. Thus, the application of new generation filler Etrebelle 200 with a well-balanced composition offers the great possibility to improve skin elasticity and recover its natural beauty and youth.
Strengths of Etrebelle 200:
promotes flattering of both type of wrinkles: fine  marionette lines and deep folds
possess low crystalline structure that is suitable for volumerization and skin recovery at most
might be used for non-surgical correction of nose and chin shape
exerts optimal viscosity and does not migrate from injection area
the effect is evident even one week after the procedures
the procedure is almost painless since is accompanied with lidocaine
Etrebelle 200 is injected for:
elimination of wrinkles, including deep ones
restoration of volumes in the forehead area and tear trough
hollow cheeks correction
elimination of marionette-wrinkles
general recovery of skin elasticity
The effect of the procedure lasts up to 2 years.
Product composition: poly lactic acid (170 mg), hyaluronic acid (30 mg)
Etrebelle 200
1 vial × 200 mg
Cannula size: 25-27G
Manufacturer: Yooyoung Pharmaceutical Co., Ltd., South Korea
Additional information
| | |
| --- | --- |
| Weight | 0.1 kg |
| Quantity | 1 vial × 200 mg per pack |
| Origin | South Korea |
| Ingredients | |