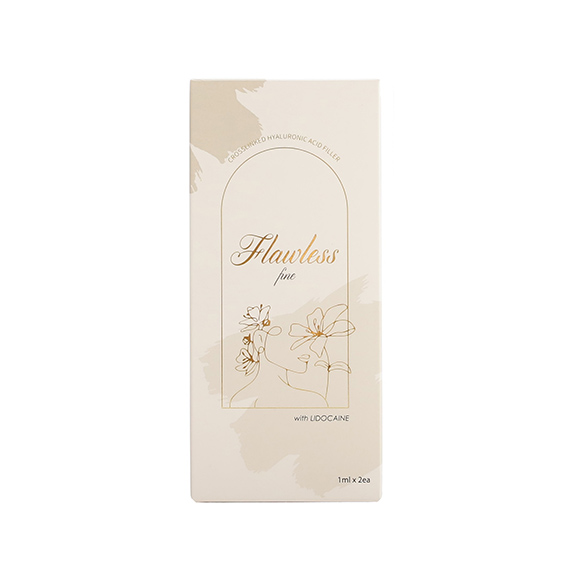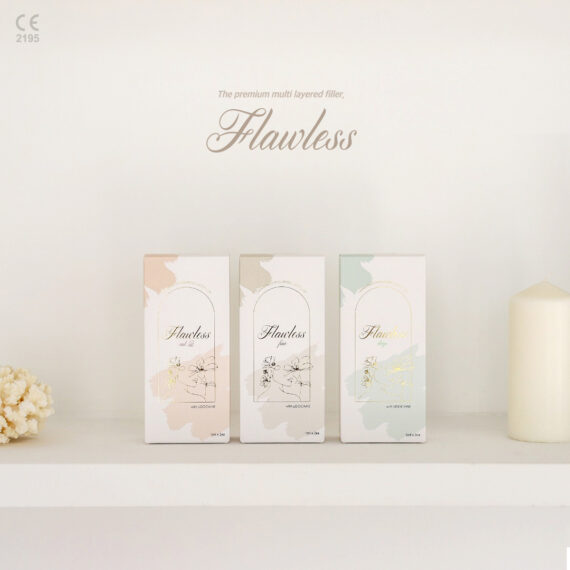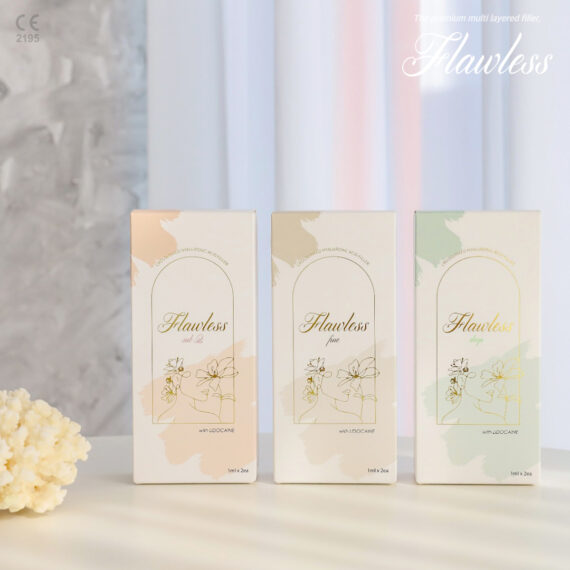 Flawless Fine (CE approved)
$65.00
FLAWLESS is a brand-new premium multi layered filler. All the products comprise the unique multi-phase solutions containing the hyaluronic acid in the cross-linked polymeric form. Such a formula provides optimal viscosity and stability of the product, which allows to correct the wrinkles with any degree of complexity depending on the type of injections.
Available on backorder
Description
FLAWLESS Fine is a filler based on hyaluronic acid for the correction of fine lines. Given product is the first one from the cognominal series and is perfectly suitable for the management of first hallmarks of skin aging. The base of the filler is cross-linked polymeric hyaluronic acid that effectively binds the water. Since the product is injected to the intra-dermal layer, it is possible to reach point-wise correction of the most fine lines in the eye, lips and neck areas. The solution represents the multi-layered phasic that is stable and has optimal viscosity that prevents migration of the product form the injection zone. In addition, the world's first patented technology increases the stability of hyaluronic acid in the composition. Such modification additionally enhances the consistency of the product and provides more long-lasting effect from the procedures.
Strengths of FLAWLESS Fine:
CE Approved
the composition contains lidocaine and injections are undergoing almost painless
suitable for young patients which are needed the light correction of first age-related skin changes
the filler not only effectively fills the volumes on face but also moisturizes skin
FLAWLESS Fine is injected for:
elimination of fine lines
flattering of marionette-lines and "crow's feet" wrinkles
correction of fine lines in the neck area
elimination of light wrinkles in the lips area
Product composition: Hyaluronic Acid 20 mg/ml, 0.3% Lidocaine
FLAWLESS Fine
2 pre-filled syringes × 1.0 ml
Needle size: 27 G 1/2', 30 G 1/2'
Manufacturer: CG Bio Co., Ltd., South Korea
Additional information
| | |
| --- | --- |
| Weight | 0.02 kg |
| Origin | South Korea |
| Quantity | 1ml * 2 syringes |
| Ingredients | |