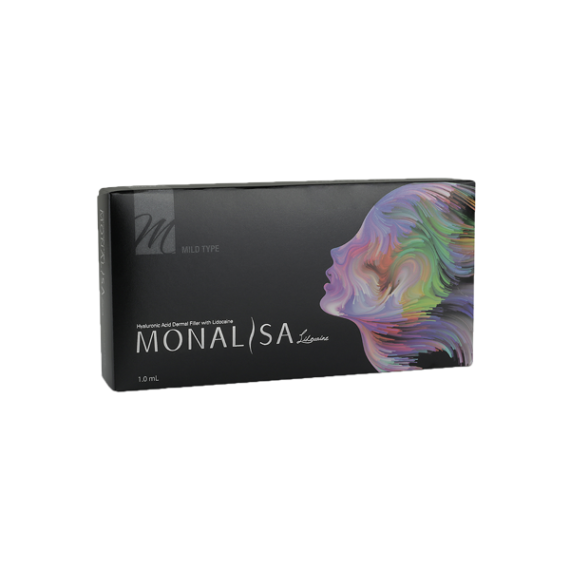 Monalisa Mild
$50.00
Monalisa is a brand of dermal filler from the South Korean company GENOSS Сo., Ltd. The line consists of four products: Monalisa Soft, Monalisa Mild, Monalisa Hard and Monalisa Ultra, which differ in density and depth of injection. Fillers don't contain any impurities, which makes them easy and safe to use. All products are tested and meet international quality standards.
Out of stock
Description
Filler Monalisa Mild is a hyaluronic acid-based booster designed to correct wrinkles of the upper epithelium of the skin and the middle subcutaneous layer. Product is created using the Hy-BRID technology, which ensures optimal viscoelasticity and last-lasting effect. Filler can correct perioral (purse string) wrinkles, shallow creases caused by natural facial expressions, as well as wrinkles caused by age-related changes.
The ergonomic handle of the syringe ensures a smooth and even injection, which makes it easy to use a variety of injection techniques depending on the area of ​​application.
Strengths of Monalisa Mild:
hyper cross-linked
based on non-animal HA
residue-free
improved density and elasticity
Monalisa Mild is used for correction:
of wrinkles and irregularities formed in the upper epithelium and in the dermis itself
of purse-string wrinkles and shallow folds of the peri-labial region
of wrinkles of the mobile (mimic) part of the face
Product composition: Hyaluronic acid 20 mg/ml
Monalisa Mild
1 syringe × 1.0 ml per pack
Needle size: 30G
Manufacturer: GENOSS Сo., Ltd., South Korea
Additional information
| | |
| --- | --- |
| Weight | 0.1 kg |
| Origin | South Korea |
| Ingredients | |
| Quantity-per-case | 1 syringe × 1.0 ml per pack |