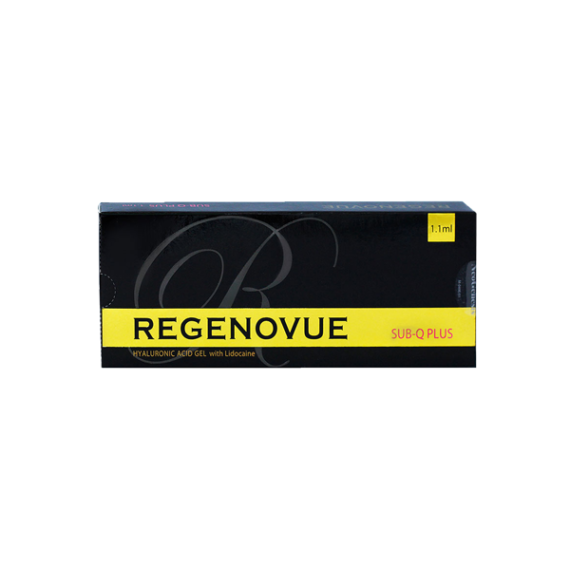 Regenovue Sub-Q Plus
$52.00
Regenovue presents a series of cross-linked hyaluronic-acid-based fillers from the South Korean company NeoGenesis Co., Ltd. Regenovue products have an exceptional HA cross-linking rate (100%) and one of the lowest BDDE levels in the market of dermal fillers.
Description
Regenovue is a dermal filler containing 100% cross-linked hyaluronic acid (HA). A high rate of HA cross-linking in Regenovue products makes it more resistant to degradation thus elongating the esthetic effect. Regenovue fillers have highly-consistent monophasic structure, which makes the injection procedure easy and painless. High purity level indicates low endotoxin content in the composition. High elasticity and viscosity of the gel provide uniform distribution of the filler during injection and reduce the risk of gel lumping.
Strengths of Regenovue:
high-quality biodegradable HA
low endotoxin concentration (<0.0015 IU/mg)
minimized risk of lump formation
long-lasting esthetic effect
painless and injury-free injection due to the highly-consistent gel structure and the presence of lidocaine in the composition
Regenovue Sub-Q Plus is ideal for correction of deep to severe wrinkles and facial volumization. The filler is injected into the lower subcutaneous layer of the dermis.
Scope of Regenovue Sub-Q Plus:
reduction of deep wrinkles and folds (nasolabial folds, worry lines, frown lines, chin wrinkles)
lip augmentation
facial volumization (forehead, chin, and cheekbone areas)
nose bridge/ridge improvement
acne scar treatment
The aesthetic effect lasts from 8 to 12 months.
Product composition: HA 24 mg/ml, Lidocaine 0.3%
Regenovue Sub-Q Plus
1 syringe × 1.1 ml, 2 needles per pack
Needle size: 27G
Manufacturer: NeoGenesis Co., Ltd., South Korea
Additional information
| | |
| --- | --- |
| Weight | 0.1 kg |
| Origin | South Korea |
| Quantity-per-case | 1 syringe × 1.1 ml per pack |
| Ingredients | |