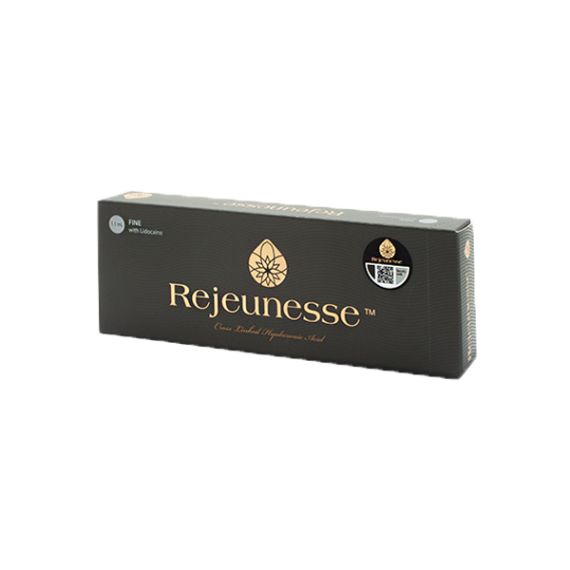 Rejeunesse Fine
$35.00
Rejeunesse is a novelty of the professional cosmetology market by South Korean manufacturer Newmedic Co., Ltd. In the Rejeunesse series are presented Hyaluronic acid-based products for biorevitalization, reinforcement, removal of small, medium and deep wrinkles, nasolabial folds, modeling, and lip augmentation, and correction of facial contours. Positive feedback from cosmetologists and a low price will make them the main competitor of popular similar products from world-famous brands.
Description
Rejeunesse is non-animal-based dermal filler created by unique UPHEC technology. This technology makes filler safe for patients by reducing endotoxin (less than 1.2 EU/mL) and the absence of residual BDDE. So filler has a high level of purity. The absence of animal products reduces the risk of an immunogenic reaction.
Thanks to its unique technology, Rejeunesse has a lifespan of more than 8 months.
Strengths of Rejeunesse:
non-animal hyaluronic acid
no residual BDDE
long-lasting effect
painless of procedure
Rejeunesse Fine with lidocaine is used in the correction of fine to medium-sized imperfections of the face via superficial to mid dermis injection.
Scope of Rejeunesse Fine:
prevention and correction of superficial wrinkles in the periorbital region
treatment of facial and nasolabial folds
correction of wrinkles in the forehead and between the eyebrows
correction lips contour
modeling the contours of the face and neck
The duration of the effect of 8-12 months.
Product composition: HA 24 mg/ml, Lidocaine 0.3%
Rejeunesse Fine
1 syringe × 1.1 ml per pack
Needle: 30G
Manufacturer: Newmedic Co., Ltd., South Korea
Additional information
| | |
| --- | --- |
| Origin | South Korea |
| Quantity-per-case | 1.1ml * 1 |
| Ingredients | |