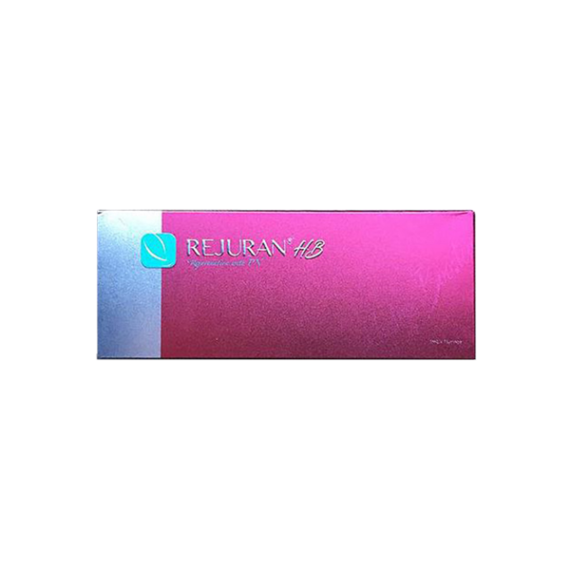 REJURAN HB
$110.00
Rejuran is a series of skin boosters based on polynucleotide (PN) by Pharma Research Products Co., Ltd., a Korean company.This series includes four products for skin regeneration, regeneration and appearance improvement.
Description
Rejuran is a series of polydeoxyribonuculeotide (PDRN) skin boosters. PDRN features DNA polymers that are 50 to 2000 nucleotides in length and are separated from salmon testicles, also known as polynucleotides (PN). Numerous clinical trials have demonstrated an outstanding effect of PN on cell growth and tissue regeneration. The Rejuran product aims to provide effective and fast rejuvenation and moisture supply to the epidermis and deep layers of the skin.
Strength of Rejuran HB:
Product is FDA approved and CE certified
Immediate and long-lasting moisturizing effects on the skin
Increased clinically proven skin thickness and luster
Doubled skin elasticity over HA-only products
Rejuran HB is a catalyst for skin recovery and moisture supply. This product features a combination of salmon-derived polynucleotide extract (PN) and hyaluronic acid (HA). The synergy between the two ingredients improves the tone and elasticity of the skin, making the skin look moist, bright and young. Rejuran HB stimulates the production of collagen and elastin and triggers proliferation of fibrous sub cells. Restores skin literally. Booster can be injected into various parts of the face, neck, splits, elbows, knees, and hands. The presence of lidocaine in the composition reduces the painful sensation during the injection procedure.
Scope of Rejuran HB :
Treatment of the first signs of aging (thin and shallow wrinkles)
Skin damage recovery (due to UV exposure and excessive beauty treatment)
Improve texture and skin tone
Treatment for acne scars
Additional information
| | |
| --- | --- |
| Weight | 0.1 kg |
| Origin | South Korea |
| Quantity-per-case | 1 syringe × 1.0 ml per pack |
| Ingredients | |