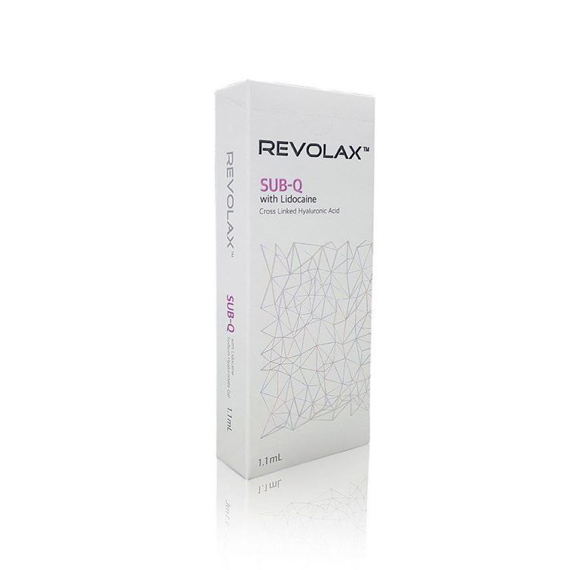 Revolax Sub-Q Lidocaine (Domestic)
$40.00
Revolax Dermal Filler is created by Across Co. Ltd., a South Korean company. Ltd. since 2009. The company has extensive experience in the production of pharmaceutical and medical equipment with innovative technical solutions and produces high-quality dermal filler from hyaluronic acid – REVOLAX for the global and domestic market. Fillers are popular among cosmetologists around the world.
Description
Revolax Sub-Q Lidocaine is high purity biodegradable hyaluronic acid filler, the densest and viscous in the brand line. The 3-D structure of the molecule prevents the rapid biodegradation of the gel. The monophasic structure provides a uniform and natural distribution of the filler in the layers of the dermis.
Benefits of Revolax:
due to the high degree of purification, does not cause swelling and allergies
optimal crosslinked HA
long lasting effect
stronger support for skin structure
painlessness and comfort of the procedure
Revolax Sub-Q Lidocaine is intended for sculpting the contours of face, filling pronounced skin folds. An anesthetic in the gel makes the procedure painless.
Scope of Revolax Sub-Q Lidocaine:
volumetric modeling (cheekbones, cheeks, chin)
correction of deep wrinkles and folds (nasolabial triangle, puppet lines)
lip augmentation
Effect lasts 8-12 months.
Product composition: HA 24 mg/ml, Lidocaine 0.3%
Revolax Sub-Q Lidocaine
1 syringe × 1.1 ml per pack
Needle: 25G
Manufacturer: Across Co. Ltd., South Korea
Additional information
| | |
| --- | --- |
| Weight | 0.1 kg |
| Origin | South Korea |
| Quantity-per-case | 1.1ml * 1 |
| Ingredients | |