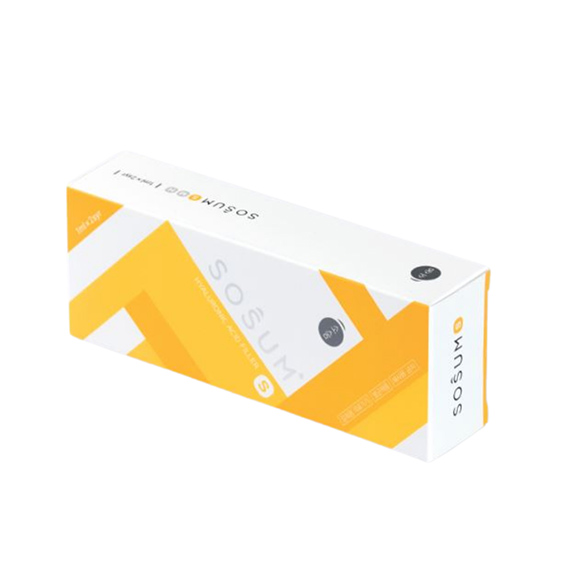 Sosum-S
$45.00
Sosum presents a series of cross-linked hyaluronic-acid-based fillers from the South Korean company JSBIO Co., Ltd. Sosum fillers have outstanding HA cross-linking rate, zero BDDE level, as well as high viscosity and elasticity parameters, which ensure longer aesthetic effect duration.
Description
Sosum S is a stabilized hyaluronic acid- (HA)-based filler with high cross-linking rate. Sosum fillers have outstanding density, viscosity, and elasticity. The reaction of HA cross-linking is held under low temperatures, which allows obtaining dense and finely packed HA gel structure. Two-step purification of HA after the cross-linking reaction minimizes the level of residual BDDE. High cross-linking rate ensures longer effect duration due to enhanced resistance of HA to degradation. Zero residual BDDE and low endotoxin levels minimize allergic reactions and other side effects after the procedure. Low injection force of the HA gel guarantees uniform and painless distribution of the filler during injection.
Strengths of Sosum:
the series contains 3 products varying in the HA gel grain size depending on the scope of use
no allergic reactions and other side effects due to the zero level of residual BDDE
non-animal-derived HA
proven safety (toxicity tests)
proven effectiveness (based on the survey on the 8th and 24th weeks after the injection procedure)
finely-divided gel structure makes the procedure painless and reduces the risk of post-injection edema and bruises
high rate of HA cross-linking and dense gel structure minimize the risk of lump formation
long-lasting esthetic effect due to the high viscosity of the gel
Sosum S is ideal for filling superficial wrinkles and fine lines. The filler is injected into the upper (superficial) dermis.
Scope of Sosum S:
forehead and glabellar lines
fine perioral lines
periorbital area (crown's feet)
neck lines
The aesthetic effect lasts up to 12 months.
Product composition: HA 20 mg/ml
Sosum S
2 syringes × 1.0 ml per pack
Manufacturer: JSBIO Co., Ltd., South Korea
Additional information
| | |
| --- | --- |
| Weight | 0.1 kg |
| Origin | South Korea |
| Quantity-per-case | 1.0ml * 2 |
| Ingredients | |